Hello dear blog friends: There is a new challenge over at the
RETRO RUBBER
challenge blog and it's one of the most popular ones, as the banner says, ANYTHING GOES this time so, I hope you find some time to play along with my teammates and I in our gallery.
Here is a card I made with, what I think, is the oldest stamp set in my craft room, one that was issued way long before I started stamping back in, if I recall correctly, 2010 or so. This set is called "Mice Messages" from Stampin' Up! and it's as cute as it can be.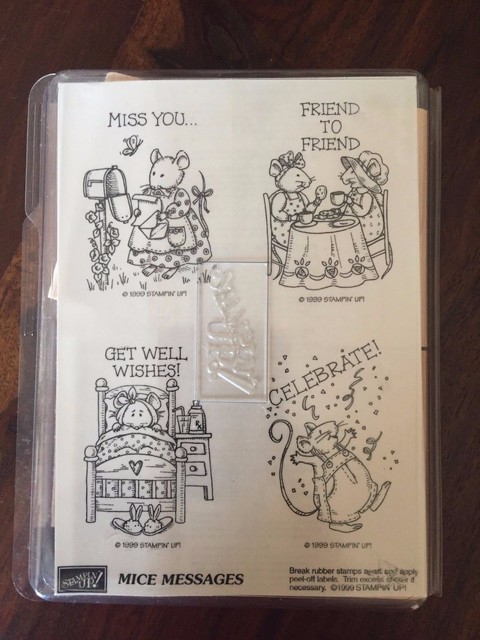 As you can see, the date on the wood block is 1999, I saw it on Ebay and I just had to have it and here is the card I created with one of the images, I was smiling, from ear to ear as I was coloring this sweetie pie.
Isn't she adorable? I stamped this image onto a die cut circle of water color paper with Stazon ink and colored it with Prismacolor pencils and paper stumps dipped in baby oil. The background was made with a Woodgrain background stamp and the "floor" is a piece of Lili of the Valley pattern paper, (discontinued)
The lilac pattern paper is also from Lili of the Valley and sadly, also discontinued. The sentiment is from this stamp but I snipped it off just to be able to place it anywhere I wanted.
*************************************************************************
Here is a picture of the finished inside of my card.
The sentiment and the bench are from an old retired Flourishes set called "Around the Arbor".
So there you have it, hope you got inspired by my card to play along with us at
RETRO RUBBER
for our "ANYTHING GOES" challenge, for more inspiration hop over the challenge blog and check out my awesome teammates creations.
Please remember to use at least one stamp that is OLDER THAN A YEAR, whether it's how long you've had it or the date it was issued, we want to give all of our older and a bit neglected stamps a chance to shine again.
Also, please limit your challenge participation to 10 challenges, including ours.
Thank you for stopping by, I always read every single comment you so kindly leave on my posts, I want you to know I appreciate them more than words can express.
Until next time, happy stamping.
Hugs from Maria.