Hello dear blogging friends: You must know by now that there is a fabulous new challenge out there in blog land called the
TWOFER CHALLENGE
created by the fabulously talented Darnell Knauss, this challenge really makes you use your imagination to come up with two cards that are completely different using the same stamp or die. This is what I created, hope you like them.
The pansies on the left and the butterflies on the right are made with the Butterfly Punch that coordinates with the "Flight of the Butterfly" stamp set, here is a picture to spark your memory.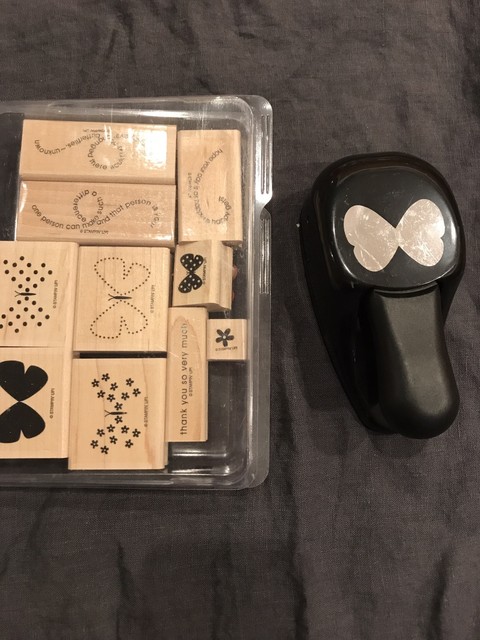 Anywho, the first card was made following
THIS TUTORIAL
I found on Pinterest, super fabulous how you can actually make this Pansies with this punch.
I just sponged some Concord Grapes distress ink on each of the "Petals" that I punched from yellow card stock and made the veins with a dark purple Prismacolor pencil. I added a small golden Rhine Stone for bling, the leaves were die cut with the retired SU "Botanical Blooms"die set.
I used an oval SU embossing folder on both cards but I forgot the name of it at the moment.
On the second card, I used the punch to punch out 3 butterflies from a piece of watercolor paper my granddaughter Vanessa (almost 20y/o) used to test some inks for one of her amazing paintings.
I thought the colors were so beautiful and I knew I was going to use it somehow, I love the way the wings look on those awesome shades of blue. I used the same embossing folder as on the first card.
************************************************************************
This is how the
I
N
S
I
D
E
of my cards looks like.
The border on both insides is done with the SU "Delicate Details" stamp set, the sentiment on the left is from a Power Poppy set called
DAFODILS
, the sentiment on the right is from an old Flourishes set called ""With Gratitude".
Here is a little closeup of both front panels on my cards.
I'm playing along with the following challenges.
Thank you for stopping by, I always read every single comment you so kindly leave on my posts, I want you to know I appreciate them more than words can express.
Until next time, happy stamping.
Hugs from Maria.